Online web development courses are now becoming very popular day by day and getting those courses for free is one of the best part in internet. Web development has great scope and many people are learning web development and starting his career as web developer. But the problem is that most of online platform cost thousand for dollars for single course. Therefore, Learning online web development is expensive.
However, In this article we have collected one of best online web development courses which are completely free and you can learn web development without spending your money away.
Learn Web Development
Learning web development is quite amazing and inspiring. When you bring your creative mind for creating websites which are unique and professional then you have to know how to development website from scratch. Because, making websites from start and coding and completing it with utmost result will give you superior feeling and freedom to integrate every single design in your website.. There are many people who use ready made themes for the websites. But if you know how to work and develop the website. you can make any website when the client will give you any raw concept.
Free Web Development Courses
There are most popular web development course which you can get it for free.
 Web Development By Doing: HTML / CSS From Scratch
Learn Responsive Web Development from Scratch
Foundations of Front-End Web Development
Learn HTML & CSS: How To Start Your Web Development Career
Sass Workflow
Master the Basics of HTML5 & CSS3: Beginner Web Development
Also check:
 Web Development By Doing: HTML / CSS From Scratch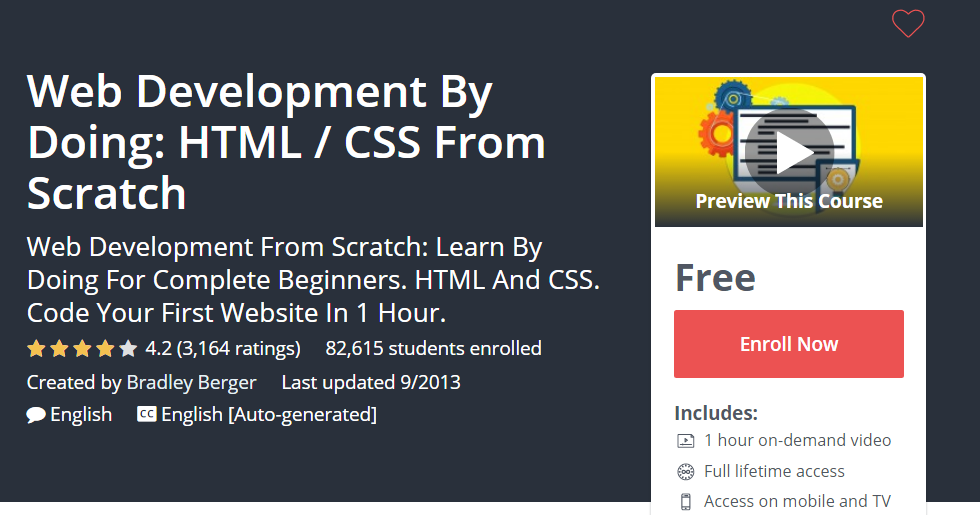 If you're looking to get a start on learning the new, fun, and profitable skill of web development, then this course is for you. Instead of teaching tedious theory on how to code a website, you'll learn practical knowledge on how to do it. The best way to learn is by doing, and that's why you'll actually make a complete website from scratch. You'll learn two different methods, by writing the code from scratch, and using Dreamweaver, a tool that every web developer should have. You'll learn the advantages and disadvantages to using each method, and be able to see your work come to life!
Learn Responsive Web Development from Scratch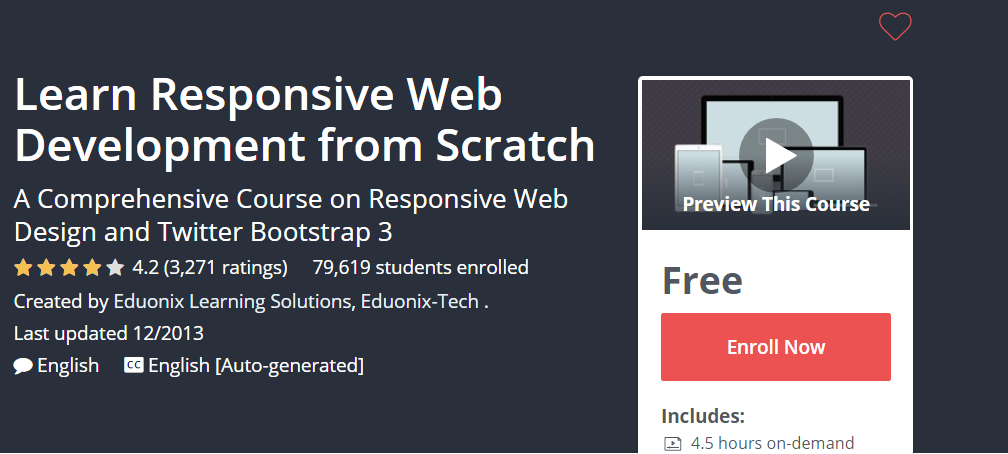 With smartphone revolution and explosion of tablet sales worldwide it is important that your websites are geared towards different screens and resolutions. Responsive web design is the most important attribute of modern web development. Eduonix brings to you the most comprehensive course on the responsive web design. This unique course covers not only strategies tools tips and tricks for generic web design in HTMl5 and CSS3 but also covers Twitter Bootstrap 3 the cool framework for creating responsive websites in detail.
Foundations of Front-End Web Development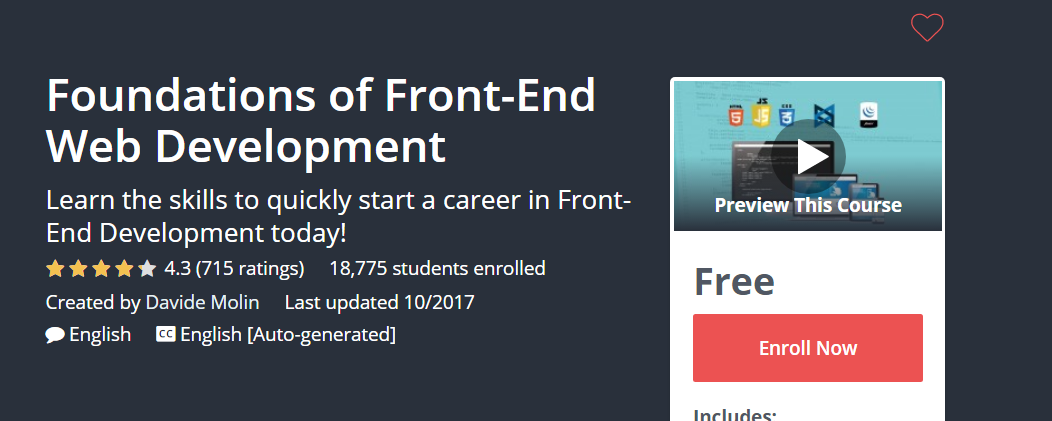 This comprehensive course is aimed at students with no previous experience with Web Development or programming at all;
This course was made in 2015 and, apart from a few updates in 2016 it won't likely see more updates (that is one of the reasons why it's now offered for free). Though, its content is still super relevant nowadays and important in building a solid foundation in Front-End Development. No matter what latest technology you want to learn, you need the basics first and this is exactly what this course is for!
Learn HTML & CSS: How To Start Your Web Development Career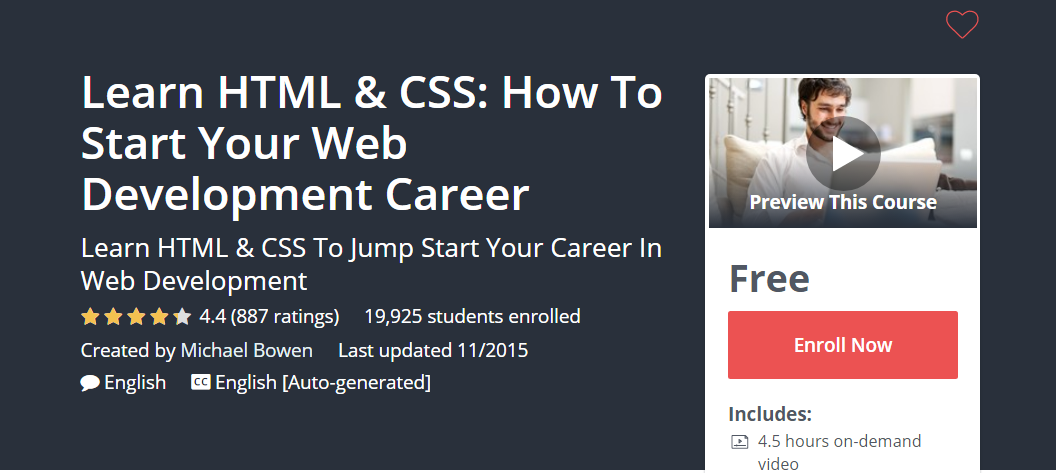 It has allowed me to be geek and get paid making awesome apps that help people.There is an abundant number of tech jobs in every major city, so you can live in a lot of cool places.The average web developer makes around $76k a year.A lot of tech companies allow their employees to work remotely.And I want you to experience that too.
The course is split into 4 easy to follow sections:
HTML Section
CSS Section
Code Challenge Final
Course Project
In the HTML and CSS sections you create websites using HTML and CSS.
Sass Workflow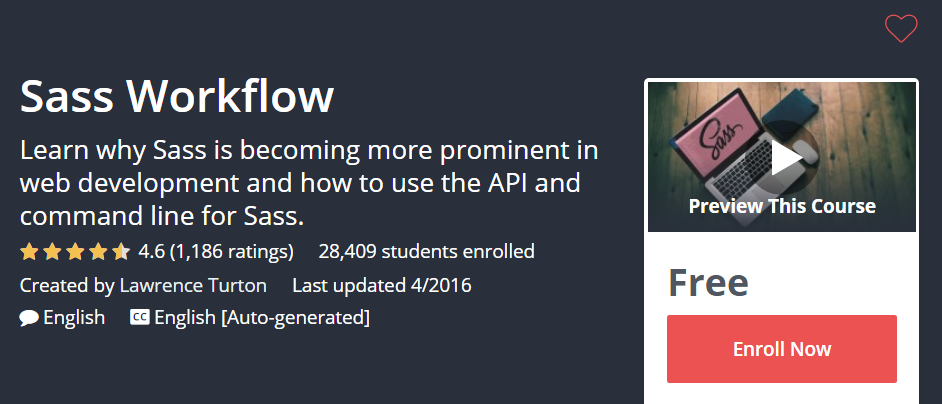 This course shows you how to easily use the command line to keep our CSS up to date. it'll be watching our Sass files automatically for any new changes and exporting in real time. Also the command line allows real time compression to produce a smaller CSS file and converting between Sass and SCSS.
With projects getting larger and more detailed we need to keep our CSS maintained. This can be a handful when it comes to a standard CSS stylesheet. But with Sass everything can become a breeze!
Master the Basics of HTML5 & CSS3: Beginner Web Development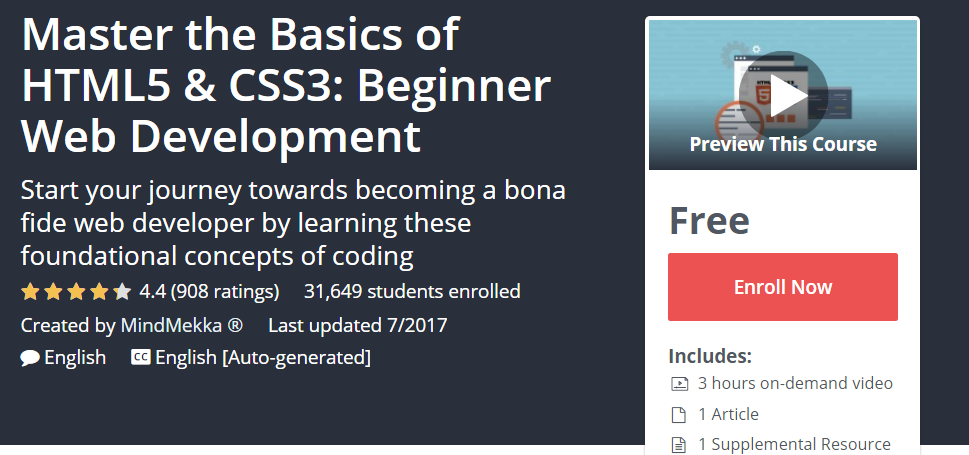 Whether it's someone that's looking for a career change…
An entrepreneur who needs a website for his business but lacks the funds needed for outsourcing…
Or just those seeking personal enrichment;
The fact remains that, in the world of today, web development skills and knowledge are becoming increasingly sought-after and, therefore, also increasingly valuable.
This course is meant for those brave individuals who wish to take their first steps into the world of Web Development. It's meant to give you a taste of this vast and interesting field so that you can accurately determine if this is something you wish to pursue.
Certified Web Development Professional:
The best part of these course are when you are going to complete the course in Udemy online website. You can also get Certificate online for free without pay anything. Therefore, If you are thinking that you should have certificate for your web development then don't worry just enroll in these courses and learn complete web development and at the same time get your Certificate too.
Conclusion:
All this online web development course will help you to learn coding and development. And you will be able to design your first website. If you have any question or want to add more free tutorial for web development just write it in comment box.